HAPPY-VACATIONS.NET

CARIBBEAN

The Caribbean is one of the most amazing places on Earth, with its pristine beaches, romantic views, and breathtaking sights. All this beauty set amidst 7000 islands, islets, reefs, and cays. No matter the season or island, you can always count on year round beauty.

Many of the top Caribbean destinations offer a variety of packages such as All-Inclusive, Couples-Only, and Family Fun packages. Group specials are also available for the Caribbean, whether it is a breathtaking destination wedding, traveling with a group of your closest friends, planning an anniversary party, or having a family reunion. We will happily tailor the perfect trip to all of your needs, making your vacation a very memorable and happy one!

If you are ready to book now, click on the link below:


TOP DESTINATIONS:

Antigua
Aruba
Bahamas
Barbados
Belize
Bermuda
Bonaire
British Virgin Islands
Cayman Islands
Costa Rico
Curaçao
Dominican Republic
Jamaica
La Romana/Casa de Campo/Juan Dolio & Santo Domingo Puerto Plata Sint Marten/St.Martin
St Kitts
St Lucia
Tobago
Turks & Caicos
U.S Virgin Islands

When To Go:

Caribbean tourism booms from mid-December through mid-April. The winter weather in the Caribbean features little rainfall and has average highs in the mid-80s and average lows in the low 70s making it ideal to travel between these months.

The low season is in June, July and August. June is one of the rainiest months of the year, but July and August are usually sunny and enjoyable. The humidity and temperatures rise in these months.

Hurricane season in the Caribbean runs from the beginning of June through the end of November, although September and October are peak times for hurricane activity. Some islands like Barbados are rarely affected by hurricanes as well as islands near the equator, such as Aruba, Bonair and Curacao.

Click image below to view the on-line catalog for the Caribbean: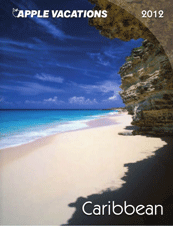 Book now for great deals! For inquires and quotes please email kristina@happy-vacations.net, click the CONTACT US link or simply call 818-600-1FUN (818-600-1386)

Or click on link below to book online: